Around 75% of people admit that they judge a company's credibility based on its website design. What would your current site say about your credibility?
If you're thinking about updating your site so you can appeal to more of your target audience, you need to think carefully about your UX design.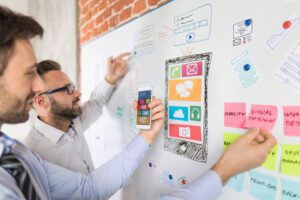 Fortunately, you've come to the right place for guidance. Keep reading to learn about some of the most common UX design mistakes to avoid and why you should consider working with an Orange County graphic design company like ours on your new site design. 
1. Focusing Too Much on Design Trends
Website design trends come and go and you have to walk a fine line between having a site that's too trendy and one that looks outdated. Instead of going all-in on the latest UX trends, take the time to do some research, looking for data that backs up the effectiveness of a given trend.
Then, consider performing A/B tests on your site to see how your customers respond to trends before committing to a new change on your site. 
2. Forgetting About Functionality in Favor of Design
Your website should indeed look aesthetically pleasing. However, the most beautiful website in the world won't convert leads to customers if it's not functional. 
When you're creating your website, keep in mind that 92% of customers visit a site for the first time with no intention to purchase. If they see right away that your site is hard to use, they'll never come back to go through with buying your products or services. 
For example, you might love a sleek, thin font. But, if it's hard to read, it will leave your customers feeling frustrated. Similarly, make sure that CTA buttons are easy to click and that the site's navigation is easy to use. 
3. Ignoring Mobile Testing

Gone are the days when everyone accessed a website from a shared home computer. With the invention of smartphones and tablets, nearly everyone has a portable computer with them 24/7. 
This is why it's absolutely critical that your website design looks (and functions!) great on every device. 
Before you launch your new site, you should be doing comprehensive mobile testing to make sure that it loads correctly on a variety of devices and that buttons aren't too small, etc. 
Simply put, if you ignore mobile testing, you will lose out on potential sales. 
4. Not Hiring a Professional for Help
Because every business needs a website to thrive, there is an influx of DIY website builders that you can use. However tempting that may be, the results you'll get just can't compete with a professional website design. 
Take the time to research website design companies like our team here at LightHouse Graphics. We'll take care of all the little things that go into a design, like creating a site with your clients in mind, so that you can focus on the other aspects of your business. 
Your Orange County Graphic Design Company
After reading through some of the most common UX mistakes, it's easy to see that hiring an Orange County graphic design company like ours is the best way to go about getting a beautiful, yet functional new site. 
Connect with us today to tell us about your project and learn more about how we can bring it into reality.