No longer the domain of nerdy hobbyists, podcasting has gone mainstream in recent years. And it's not hard to see why. For starters, anyone can get into it without any previous experience or expensive equipment. All you need is a decent microphone and some software to record and edit your episodes. Plus, this modern form of communication is a lot of fun. You get to chat with interesting people and share your thoughts and opinions on the world with a wider audience. It's no wonder that so many people are getting into podcasting today.
Are you ready to start? Podcasting is a great way to share your thoughts and ideas with the world. Perhaps you've been inspired by a show such as Ignite Your Business or one of your other favorites. It's a relatively new medium, and there are many different ways to get started. If you're thinking about starting, one of the first things you'll need to do is figure out what equipment you'll need. In this article, we'll recommend the equipment bundle that we think podcast beginners should use.
The equipment you need depends on a few things. First, decide if you want to podcast alone or with a co-host. If you're going at it alone, you'll need a good-quality microphone and headphones. If you're with a co-host, you'll need two microphones and headphones.
Second, decide if you want to broadcast live or record. If you're live, you'll need a mixing board and some soundproofing material. If you're recording, you'll just need a good quality microphone and recording software.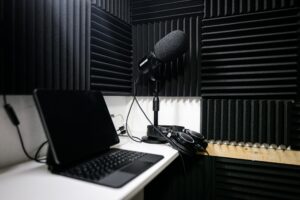 Here are our 4 recommended podcast equipment options for small businesses:
A good quality microphone
When it comes to podcasting, a good quality microphone is essential and when it comes to choosing a microphone, there are many factors to consider. For beginners, one of the most important factors is price. Many affordable microphones on the market still provide excellent quality. However, it is important to do your research before making a purchase. With so many options available, it can be helpful to read online reviews or speak to someone knowledgeable about microphones.
Once you have an idea of what you need, you can narrow down your choices and find the perfect microphone for your needs.  There are many different microphones on the market, so it can be difficult to know which one to choose. For most people, a simple USB microphone will suffice. Here are our 3 recommendations for podcast beginners:
This USB microphone is a good option if you're looking for something more affordable. Although it isn't quite as high-quality as the other options on this list, it still produces decent audio and is great for podcast beginners who are working with a limited budget.
This is a good option if you're podcasting with a co-host and want to be able to move around while you're talking. The microphone clips onto your shirt, so it's easy to use and doesn't require any extra equipment. The microphone works with most laptops with a 3.5mm audio jack, in case you want to use that instead of a USB port.  
In case you want to go truly wireless, this is our recommendation for you. The Rode Wireless has two components. The Transmitter goes on your shirt, and the Receiver is connected to the device that you are recording on.  The receiver can be connected to your laptop via USB or to  a phone or tablet using Bluetooth. This is our top podcasting equipment option for podcast beginners who want the ultimate in portability and flexibility.
A pair of headphones/earphones
A good pair of headphones goes hand-in-hand with a quality microphone. They help you focus on the podcast and avoid outside noise, but they also help to produce high-quality audio. Most importantly, they help eliminate any feedback noise that your microphone might pick up from your computer, especially if you conduct your interview online with a guest.  Here are our 3 headphone/earphone recommendations for podcast beginners:
These headphones are a popular choice among podcast beginners because they offer great audio quality and are comfortable to wear for long periods.  Sennheiser is a name that's renowned for its expertise in audio, so you can trust that its products will help you produce high-quality podcast episodes.
These headphones are another popular option for podcasting beginners. They offer excellent audio quality and are very comfortable to wear, making them ideal for long podcast recording sessions. Audio-Technica is a respected name in the audio world, so you can trust its quality and performance when it comes to recording your podcast.
If you want to podcast in a noisy environment or simply want to avoid outside noise distractions, these are the headphones for you. The Sony MDRZX110 NC Noise CancelingCancelling Headphones have a built-in noise-canceling feature that will help you focus on podcasting, even in a noisy environment. Additionally, the headphones are comfortable to wear and offer good audio quality.
HD webcams
Another important piece of podcast equipment is a webcam. While it isn't always necessary to include video content in your podcast episodes, having this option can help you produce more engaging podcast content and can make it easier to connect with your podcast audience. Here are our 3 recommendations for podcast beginners:
This is a high-quality webcam that produces excellent video quality and is easy to set up. It's perfect for podcast beginners who want to jump right into recording videos without having to worry about complicated setup processes.  Additionally, the Logitech C920 offers built-in audio, so you don't need to worry about connecting an external microphone – in case you want to use it as a webcam.
Another great option is the Logitech C922, which is similar to the C920 but includes a streaming feature that makes it even more ideal for podcast beginners who want to start capturing video content. The camera has a built-in mic and can be used with Skype or OBS to stream your podcast content.
This webcam is a good budget option for podcast beginners who want to podcast with a guest over Skype or other video-calling platforms. It offers full HD 1080p resolution and has a wide field of view, making it a good overall camera for podcasting and web meetings.
Ring Light with Tripod Stand & Mobile Phone Holder
When podcasting, it's important to have good lighting so that your audience can see you and your content clearly. While there are many different ways to light your podcasting setup, a ring light is one of the best options for podcast beginners. Ring lights are portable, affordable, and provide good lighting for video and photo content. Here are two options that we recommend:
A beefy 12-inch ring light that kicks out 20W of power from 240 LEDs, is more powerful than the similar 10-inch model (which produces 8W of power). It's big and bright enough to work as a key light for sumptuous portraits, video calls, interviews, and even Zoom meetings.
UBeesize newly launched 16" ring light combines all desired functions with a smart appearance, it also provides powerful lighting options of adjustable color temperature (3000-6000K) and dimmable brightness capacity (1000-5000 lm). Above all, it is designed to be energy-saving and less heat emitted, definitely an ideal fill light for makeup application, live-steaming, and photography.
Conclusion
Regardless of which podcasting equipment you choose, remember that one of the most important things is to practice! Even with great equipment, you won't sound professional if you don't practice and prepare for your podcast episodes. But with a little bit of effort, anyone can start podcasting and sharing their voice with the world.
Lighthouse Graphics offers an end-to-end solution for training and setting up your podcast. From selecting the right podcast equipment to preparing for your podcast recording sessions, we can help you create a podcast that is professional and engaging. Just fill out our form and sign up for a free consultation regarding your podcast!
Happy podcasting!