Working from home is the new normal. So, you've eliminated your commute. Your schedule has become more flexible. Sometimes, you even get to work in your yoga pants. However, as working from home becomes reality for many of us, so do the challenges that go with it. One of the biggest challenges people report facing with working remotely is achieving a healthy work-life balance.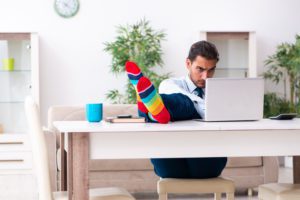 When we think of such balance, we tend to think of perfect harmony. We think of going into work and leaving behind our home lives. On the flip side, we think of heading home at the end of a long day and enjoying our family without a thought to the health of our respective companies.
Frankly, this is unrealistic–especially when working from home. When considering your work-life balance, it is important that you look at your roles at the office and at home less as roles that get perfectly equal time and energy and more roles that get a productive juggle of all aspects of our lives. 
Although this could sound discouraging, it's truly one of the more beautiful aspects of working from home. With the appropriate planning and boundaries, it is possible to live a freer, more flexible life through working from home. Consider the following tips as a starting point for visualizing your ideal work-life balance. 
1. Set a Structured Work Schedule
Set a schedule that will limit distractions and enable you to do your best work. Consider the times you will need to be present for meetings, as well as the amount of time you need to yourself, in order to work through the tasks that are on your plate. This structure will be the foundation for the balance you create in working from home. 
2. Be Intentional in Your Plans
Working from home, while full of benefits, doesn't offer the natural social fulfillment that working in a standard brick and mortar office does. It's important to be deliberate in making plans with your friends and family, and even dedicating some outside of office time to building relationships with your colleagues! 
3. Create a Dedicated Working Space
How do you leave work at work when you work at home? Good question! One of the best choices you can make is to create a working space that you can completely leave at the end of your workday. This will allow you to mentally enter work when you step into your home office, and "leave" work when you shift to different rooms in your house. 
4. Get Up and Stretch
Get up and head outside, even if you can only afford to do it for a few moments. Take your dog for a walk, do a quick lap around the block on your bicycle, or even sneak in a few jumping jacks during your lunch break. The more you move, the more energized you'll feel, and the more you'll be ready to tackle the rest of your week upon your return to your desk.
5. Treat Yourself (Like You're in an Office)
Although the temptation to wear your pajamas to work in a work from home environment is real, mindset is everything. If you dress as though you are heading outside of the home for the day, your mindset will shift to a more productive one, yielding better overall job performance.
Set aside a space that you use for full focus and attention and you will stick to schedules and planning a lot more frequently. Just don't be too hard on yourself when your schedule doesn't always line up perfectly. After all, there are perks to working from home. Life happens.