Did you know typography design can affect your mood, keep site visitors scrolling, and more? As a design feature, fonts and typeface impact user experience, marketing, and more. Making the most of these benefits relies on how well you understand the different aspects of typography.
Good graphic designers understand these benefits and the overall importance of typography. Learn about how details like typeface and spacing benefit your business with this guide.
Elements of Typography Design
When you think of typography, how much do you really know? Do the words serif and sans serif mean anything to you? If not, you're likely unaware of other design elements.
These terms are good for understanding how the different types of typography affect graphic design. Here are the terms for your reference:
Typeface: a family of fonts created in a particular style
Font: weight, width, and style of different typefaces
Leading: vertical space between lines of text
Tracking: space between text characters; important for readability
Kerning: space between letters and characters; impacts readability
Hierarchy: designed visual path header, subheader, and body type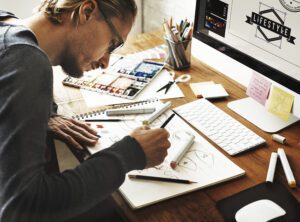 These features all play into the psychological impact and user experience of any fonts used in your web design. Coupled with standard brand kit features like color schemes, you'll find your business even more recognizable.
Readability
Your website needs reader-friendly typography. It's an essential part of any user experience. When sites lack legible text, users inevitably leave a webpage.
Graphic design can also emphasize accessibility as part of modern typography. Depending on your business and ideal client type, this communicates an awareness of every site visitor. And the value of caring about the user experience so intentionally is priceless.
Recognition
The importance of typography also helps boost your brand recognition. Any graphic designer knows the value of a well-crafted brand kit. Most brand kits have custom color palettes and font kits.
This kind of customization allows you to explore creative typography. It makes your business more memorable to site visitors and potential customers. Memorability boosts recall and the effectiveness of marketing strategies.
Ranking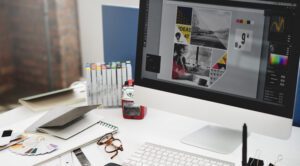 Hierarchy is a valuable feature of typography. Where you place text as a heading, subheading, or body text communicates its priority to viewers. Using innovative typography ideas, you can put different emphasis on each hierarchical feature.
Different fonts attract readers' attention and communicate levels of importance. If you want people to pay attention to other parts of a webpage, use fonts to point the way. You can ensure visitors focus on the content you consider of higher importance.
Graphic designers can help you coordinate a ranking system or hierarchy for web page content. Implementing hierarchy into your typography design can boost desired interactions.
Putting the Importance of Typography Into Action
With your new understanding of the importance of typography, it's time to act. LightHouse Graphics is here to support your graphic design needs. Reach out to explore our full-scale consultation services and see how we can shine a light on every detail of your business.