Why Your Business Needs a New Logo
A company's logo is one of its most important marketing tools. It is the first thing that customers and potential customers see, and it should therefore be eye-catching and memorable. A good logo will help to build brand recognition and create an instant association with a company's core values.
However, over time, logos can become outdated. As the world progresses, so do businesses. In order to stay ahead of the curve, it's important that your company's logo is current and in line with industry standards. A new logo can refresh your brand and give customers a positive impression of your business.
A new logo is a fresh start for your business. It's a way to signal to your customers that you're ready to move forward and that you're committed to providing them with the best possible experience.
Here are a few reasons why your business needs a new logo.
Your logo is outdated

.
If your logo is more than a few years old, it's probably time for an update. Styles change over time, and what was once trendy can quickly become dated. A new logo can give your business a fresh, modern look that will appeal to customers.
Your logo doesn't reflect your company's current mission.
As businesses grow and change, their missions often evolve as well. If your logo doesn't accurately reflect your company's values or what you do, it may be confusing for customers. A new logo can help communicate what your business is all about.
You're rebranding your business.
If you're making changes to your business name, tagline, or other aspects of your brand, it's also a good time to update your logo. A new logo can tie everything together and help customers understand your new identity.
You want to appeal to a new customer base.
As your business grows, you may want to target a different demographic than you did when you first started out. A new logo can help you attract the attention of your desired customers.
You're expanding into new markets

.
If you're planning to enter a new market, it's important to have a logo that will resonate with customers there. A new logo can help ensure that your business is positioned for success in a new market.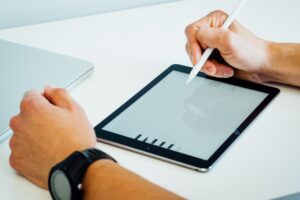 The Bottom Line Why Your Business Needs a New Logo
A logo is one of the first things customers will notice about your business, so it's important to make sure it makes a good impression. An outdated or poorly designed logo can give customers the wrong impression of your business, and make you look like you're not keeping up with the times. So don't forget to consult with a professional graphic designer before finalizing your new logo. They'll be able to help ensure that your new logo is as effective as possible.

Let us help you take care of your primary means of visual communication. A well-designed logo can convey a company's values, mission, and personality, and it can be a powerful marketing tool. A poorly designed logo, on the other hand, can damage a company's reputation and turn potential customers away.
If you're looking for an Orange County or Nashville graphic design team that can help you with the logo, we've got good news. The team at LH Graphics can help you design or update your logo.
LightHouse Graphics is the best company to design a logo for your business because we understand the power of Logo Design. We will work with you to create a logo that reflects your company's values and message, and we'll make sure it's eye-catching and memorable. Contact us today to get started on your new logo!
 Call us to get a quote!